SACHS-FX DUAL FRICTION CLUTCH KIT + RACING FLYWHEEL FOR 92-95 BMW 325 i is M50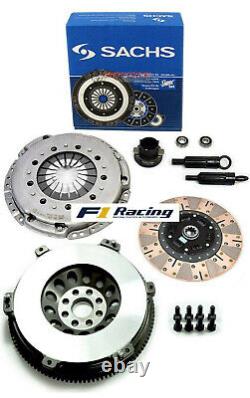 A willingness to innovate without compromises, combined with years of know-how and a striving for top quality, are characteristic of the SACHS success story. That's why SACHS clutches are among the most competitive products worldwide. The newest developments in automotive technology from Formula 1, automobile racing's premier series, directly into our manufacturing processes. It's just one more way that we can guarantee state-of-the-art engineering.
Sachs clutches are manufactured to meet or exceed OEM specifications. A proven and time-tested OE and aftermarket supplier, we use only superior quality components and asbestos-free clutch linings. FX Racing Clutch System became one of the most trusted brand in performance clutch industry by offering most bang for the buck. FX Racing Dual Friction clutch offers one-step upgrade from factory clutch to ensure greater performance and driveabilty for any stock or lightly modified car.
FX Racing Dual-Friction clutch kit comes with a full facing on the flywheel side for drivability and longevity, while a copper ceramic composite puck style (segmented) facing is used on the pressure plate side for a positive engagement and increased holding-capacity. Multi Friction is engineered for those who are looking for the ultimate in street/strip holding power and performance without sacrificing pedal effort and driver control. While the Multi Friction has been engineered primarily as a street clutch it can be used in mild competition applications.
FX Racing specifically designed high torque disc delivers maximum holding capacity without compromise. The sprung retainer assembly boasts heat treated 6 dual springs and severe duty retainer rivets, ensuring power and reliability. The FX Racing pressure plate features special single diaphragm design to increase clamp load. It features induction hardened diaphragm, CNC machined castings, stronger drive straps and rivets. FX Racing pressure plate provides smooth and precise feel with easy modulation.
All FX Racing pressure plate is load tested on a special testing tool for quality assurance. This complete clutch kit and flywheel package includes. Brand new FX Racing 4140 Chromoly Lightweight Flywheel (14.45 lbs; replacement of dual mass flywheel may cause added gear noise).
Brand new Sachs Clutch Pressure Plate (Made in Germany). Brand new FX Racing Dual Friction Clutch Disc 240mm, 10 spline; Made in U. Brand new FX Racing HD Release Bearing. Brand new FX Racing HD Pilot Bearing.
1998 - 1999 BMW 323i convertible 2 door (E36, 2.5L 6cyl) 1998 - 1999 BMW 323is 2 door coupe (E36, 2.5L 6cyl) 1992 - 1995 BMW 325i; 325is (E36, 2.5L M50) 1994 - 1995 BMW 325i convertible (E36, 2.5L M50) 1996 - 1998 BMW 328i 4door sedan (E36, 2.8L DOHC 6cyl) 1996 - 1999 BMW 328is; 328i convertible (E36, 2.8L DOHC 6cyl) 1991 - 1995 BMW 525i (E34, 2.5L M50) 1997 - 1998 BMW 528i (E39, 2.8L M52) 1995 - 1999 BMW M3 (E36, 3.0L S50; 3.2L S52) 1997 - 1998 BMW Z3 (E36, 2.8L M52) 1998 - 2002 BMW Z3 M Coupe; Z3 M Roadster (E36, 3.2L S52). NOTE: Payments received after 4:30 p. Via UPS Ground to Lower 48 States EXCEPT PO Boxes, AK, HI and Military Addresses. Major distributor of world's leading clutch manufacturers since 1999 including.
All inquiries responded within 24 hours.