XTR STAGE 2 HD CLUTCH KIT& BILLET ALUMINUM FLYWHEEL 96-98 BMW 328 328i 328is E36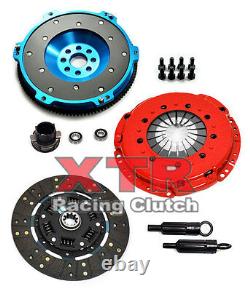 XTR Racing Clutches are direct replacement clutches. It does not require modifications in order to fit on your vehicle. These clutches are designed for the individual whose goal is to have a streetable clutch while still maintaining the high performance capabilities of a performance clutch. These clutches are designed to be used mainly on the street with occasional track usage.
All XTR Racing clutches require a 500 mile break in period. XTR Racing Clutches only consist of the very best materials. Increased clamp loads give the necessary capacity to support the increase in torque made from modified engines. All of our discs have a high capacity sprung center dampers to reduce shock on the drivetrain. XTR Racing Stage 2 disc features carbonized kevlar friction material to have higher burst strength and heat tolerance.
XTR Racing Aluminum Flywheels are made using the highest quality, most modern materials available. The flywheel itself is made from 6061 T6 billet aluminum. It is CNC machined at a constant surface speed for durability and finish. The friction surface is made from high carbon alloy steel. It is incredibly durable allowing the user to use just about any clutch disc material available from organic to Kevlar and even sintered iron. The friction plate can be machined or replaced as needed. The mass at the center of the flywheel is retained for strength, but the mass at the outside is eliminated for optimum performance. Ultra light and weighs only. Meets or exceeds SFI 1.1 specification. Course ground surface to maintain coefficient of friction. Stepped pin to maintain plate balance and placement. Tig-welded safety tab to eliminate ring gear separation. Heilicoil bolt holes to insure proper torque value and eliminate thread damage. A set of brand new 8 ea. XTR Racing 6061 Lightweight Aluminum Flywheel.
XTR Racing Stage 2 Heavy Duty Pressure Plate. XTR Racing Stage 2 Carbon Kevlar Clutch Disc. Recommended level of modification: Intake, Exhaust, Header, ECU, Performance Wheels, Tires. 1998 - 1999 BMW 323i convertible 2 door (E36, 2.5L 6cyl) 1998 - 1999 BMW 323is 2 door coupe (E36, 2.5L 6cyl) 1992 - 1995 BMW 325i; 325is (E36, 2.5L M50) 1994 - 1995 BMW 325i convertible (E36, 2.5L M50) 1996 - 1998 BMW 328i 4door sedan (E36, 2.8L DOHC 6cyl) 1996 - 1999 BMW 328is; 328i convertible (E36, 2.8L DOHC 6cyl) 1991 - 1995 BMW 525i (E34, 2.5L M50) 1997 - 1998 BMW 528i (E39, 2.8L M52) 1995 - 1999 BMW M3 (E36, 3.0L S50; 3.2L S52) 1997 - 1998 BMW Z3 Roadster (E36, 2.8L DOHC 6cyl) 1998 - 2002 BMW Z3 M Coupe; Z3 M Roadster (E36, 3.2L S52) Important Note: The clutch kit and flywheel must be used together as a conversion kit.
NOTE: Payments received after 4:30 p. Must be in brand new, resalable condition. Items that have been installed, used or altered are non-returnable. Major distributor of World's leading clutch manufacturers including XTR, ACT, Exedy, Valeo, Sachs, LuK, Fidanza and Seco. All inquiries responded within 24 hours.
Our clutches are made from the highest quality materials.