Adlerspeed Racing Clutch Twin Disc For Bmw 323 325 328 E36 M50 M52 Standard Wt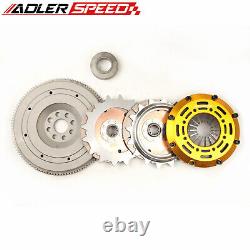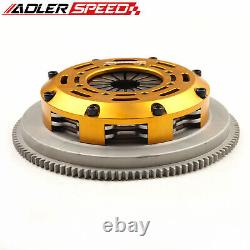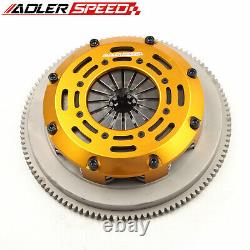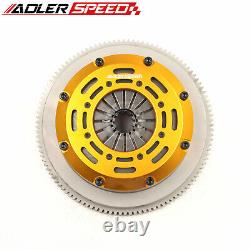 ADLERSPEED RACING CLUTCH TWIN DISC FOR BMW 323 325 328 E36 M50 M52 STANDARD WT. ADLERSPEED 7.25inch series twin disc provides the most economical racing performance clutch for the active sport compact enthusiast.
The clutch come with ceramic twin disc as well as one pieces of 4140 forged flywheel, clutch cover was made of 6061 T6 aluminum alloy complimented with a 6150 steel diaphragm. Torque capacity up to 1050Nm.
Perfect for track/Pullying/Road racing/Drag racing/Hill climb/Club racing/Circuit racing performance. Fits 1998 - 1999 BMW 323i, 323is (2.5L 6cyl M52; fits convertible and 2 door coupe only; E36) Fits 1992 - 1995 BMW 325i, 325is (2.5L 6cyl M50; E36) Fits 1994 - 1995 BMW 325i (2.5L 6cyl M50; fits convertible only; E36) Fits 1996 - 1998 BMW 328i (2.8L 6cyl M52; fits 4 door sedan only; E36) Fits 1996 - 1999 BMW 328is, 328i convertible (2.8L 6cyl M52; E36) Fits 1991 - 1995 BMW 525i (2.5L 6cyl M50; E34) Fits 1997 - 1998 BMW 528i (2.8L 6cyl M52; E39) Fits 1995 - 1999 BMW M3 (3.0L 6cyl S50; 3.2L 6cyl S52; E36) Fits 1997 - 1998 BMW Z3 (2.8L 6cyl M52; E36) Fits 1998 - 2002 BMW Z3 M coupe, M Roadster (3.2L 6cyl S52, S54; E36).
Disc size: 7.25 (185mm). Disc Spline: 185x1-1/8 x 10. Clutch Type: Push Style Release mechanism Clutch cover: Aircraft high quality aluminum alloy. Flywheel Weight: Standard light weight. Flywheel Design: One piece Standard Light weight Billet Chromoly.
Please take as reference only. Not recommend Low horsepower, low-torque cars.
Recommend race car use only. Recommend professional installation and professional driving.
Please note your Telephone NO. When you pay in order that carrier members can contact you in time for successful deliver. Thank you for your understanding. All our products are in high good quality, in rare case if an item received was damage or defective, please notify us within 3 days of receipt of it. We will do our best to solve it and satisfy you.
Return order must be in the same condition as received. Your online shopping experience will be enjoyable and of course, safe.
Monday to Friday only (excluding Holidays).